Deprecated: Assigning the return value of new by reference is deprecated in /www/wwwroot/pattayacondo.tgu1.com/plugins/content/extranews.php on line 47
Monday, 31 January 2011 14:34
Bangkok-based property developer Fragrant Group has revealed a plan to launch three to four new residential projects in 2011 with the aim of achieving THB3 billion (US$97.2 million) in revenue by the year's end.

According to the company's chief executive officer James Duan, the new developments will be both condominiums and low-rise residences, including detached houses and townhouses.
Friday, 28 January 2011 13:32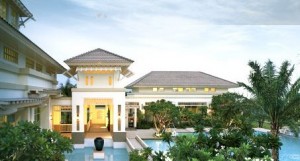 Thailand's largest developer Land & Houses (L&H) is planning increase revenue with the launch of 18 new projects in 2011.
As reported in The Nation newspaper, the company expects its income to rise by 25 per cent to THB25 billion (US$806 million). Last year, it generated revenues of THB20 billion (US$644.5 million), up 19.5 per cent from 2009.