Deprecated: Assigning the return value of new by reference is deprecated in /www/wwwroot/pattayacondo.tgu1.com/plugins/content/extranews.php on line 47
Friday, 19 October 2012 13:02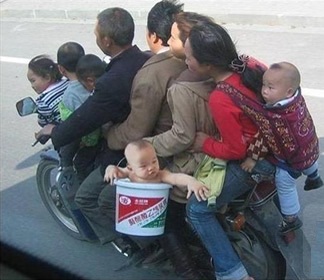 If you drive a car or motorcycle in Thailand, or are planning to, here are some humorous considerations to prepare you for this awesome experience.
It all flows somehow????
Keep left except to pass!
Having Gas in the Tank helps.
Intersections are an opportunity for doing something.
Exactly what, is the question.
Changing lanes is strictly optional at all times.
Driving the wrong way for a short distance is just fine.
Traffic signs and signals are strictly recommendations.
A Policeman with a whistle is probably someone to listen to.
Probably....
Road blocks and check points do not apply to Farang.
53 motorbikes can fit between 2 rows of cars at a light
Children can sit anywhere on a motorcycle, handlebars, basket, front and/or back rack.
The maximum occupancy for a 125cc motorcycle is 7 persons and a week's worth of groceries.
Motor cycles keep in the left lane, sometimes....
Flip flops are good footwear for riding Motorcycle.
Ladies sitting on back of Motorcycles have magnetic butts. Proof is that they can sit side-saddle with one hand resting in drivers lap and a high heel on the foot peg at 60kmh.
Maximum Occupancy for a small pickup truck bed is 35 persons. With a hot BBQ for in flight meals.
Never load a truck to just full always put at least twice as much on.
If you load soo much in the back of the truck, so that the front wheels will not steer have a few friends sit on the hood. The affects on driver visibility is nominal compared to being able to actually steer.
Red Lights mean go faster.
Yellow light means go faster.
Green light means go faster.
You always have to be in front.
All lanes are passing lanes.
Passing is best done on Blind turns, especially on mountain roads.
Bigger means you have the right of way.
Forgot a few:
If it ain't broke don't fix it. Trust in the gods!
If something mechanical is going wrong with the car, be sure to purchase the Buddhist flowers by the roadside and put them on the rear view mirror. People sell these at intersections all over the place.
When you get a car the first stop is the Wat/Temple to have the monks bless the car.
All cars have Buddhist blessing strings around the steering columns.
Rental cars have huge bundles of blessing strings to protect the farangs who can't drive in Thai.
Also blessings are written on the headliner over the driver and sometimes in the glove box.
Many have amulets on the dash or hanging from the mirror.
Dogs and Cars:
Dogs can and do sleep in the middle of the road any time of day, as no Thai would ever hit an animal if they can help it. They, the dogs, think the roads are there for them exclusively to lounge about.
Often a dog will climb under your car as soon as you park to take advantage of the new shady spot.
Don't worry he will get out as soon as you get back in.
I have never seen more traffic savvy dogs. You see almost no animals of any kind dead along the road. This is probably because the Thai, being good Buddhists, strive not to harm any.
Of course you often see them sleeping on top of cars at night to get the warmth and a good view.
Dogs can and do ride on the seats or in the baskets of motorcycles.
Though they have not learned to drive yet. Soon... Soon...
Cattle also believe that the roads are made for them and will walk into traffic any time. Be alert.
In closing think about this; passing a truck in a blind mountain corner with cattle strolling across the road and an oncoming car in the other lane!
Just a normal day on the road.
Scott Willoughby