Deprecated: Assigning the return value of new by reference is deprecated in /www/wwwroot/pattayacondo.tgu1.com/plugins/content/extranews.php on line 47
Friday, 19 October 2012 13:02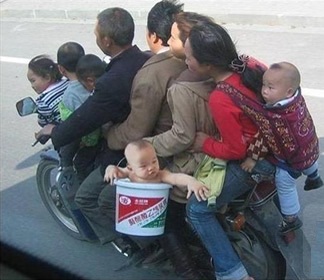 If you drive a car or motorcycle in Thailand, or are planning to, here are some humorous considerations to prepare you for this awesome experience.
It all flows somehow????
Keep left except to pass!
Having Gas in the Tank helps.
Intersections are an opportunity for doing something.
Exactly what, is the question.
Changing lanes is strictly optional at all times.
Driving the wrong way for a short distance is just fine.
Traffic signs and signals are strictly recommendations.
A Policeman with a whistle is probably someone to listen to.
Probably....
Road blocks and check points do not apply to Farang.
53 motorbikes can fit between 2 rows of cars at a light
Children can sit anywhere on a motorcycle, handlebars, basket, front and/or back rack.
The maximum occupancy for a 125cc motorcycle is 7 persons and a week's worth of groceries.
Motor cycles keep in the left lane, sometimes....
Flip flops are good footwear for riding Motorcycle.
Ladies sitting on back of Motorcycles have magnetic butts. Proof is that they can sit side-saddle with one hand resting in drivers lap and a high heel on the foot peg at 60kmh.
Maximum Occupancy for a small pickup truck bed is 35 persons. With a hot BBQ for in flight meals.
Never load a truck to just full always put at least twice as much on.
If you load soo much in the back of the truck, so that the front wheels will not steer have a few friends sit on the hood. The affects on driver visibility is nominal compared to being able to actually steer.
Red Lights mean go faster.
Yellow light means go faster.
Green light means go faster.
You always have to be in front.
All lanes are passing lanes.
Passing is best done on Blind turns, especially on mountain roads.
Bigger means you have the right of way.
Forgot a few:
If it ain't broke don't fix it. Trust in the gods!
If something mechanical is going wrong with the car, be sure to purchase the Buddhist flowers by the roadside and put them on the rear view mirror. People sell these at intersections all over the place.
When you get a car the first stop is the Wat/Temple to have the monks bless the car.
All cars have Buddhist blessing strings around the steering columns.
Rental cars have huge bundles of blessing strings to protect the farangs who can't drive in Thai.
Also blessings are written on the headliner over the driver and sometimes in the glove box.
Many have amulets on the dash or hanging from the mirror.
Dogs and Cars:
Dogs can and do sleep in the middle of the road any time of day, as no Thai would ever hit an animal if they can help it. They, the dogs, think the roads are there for them exclusively to lounge about.
Often a dog will climb under your car as soon as you park to take advantage of the new shady spot.
Don't worry he will get out as soon as you get back in.
I have never seen more traffic savvy dogs. You see almost no animals of any kind dead along the road. This is probably because the Thai, being good Buddhists, strive not to harm any.
Of course you often see them sleeping on top of cars at night to get the warmth and a good view.
Dogs can and do ride on the seats or in the baskets of motorcycles.
Though they have not learned to drive yet. Soon... Soon...
Cattle also believe that the roads are made for them and will walk into traffic any time. Be alert.
In closing think about this; passing a truck in a blind mountain corner with cattle strolling across the road and an oncoming car in the other lane!
Just a normal day on the road.
Scott Willoughby
Thursday, 18 October 2012 12:55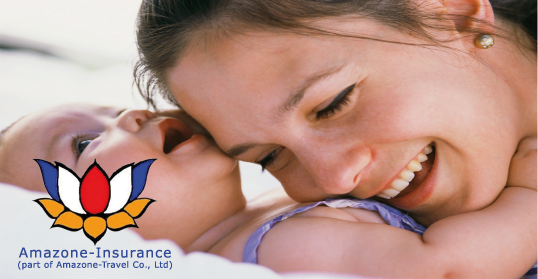 A lot of Joe Lizzerd's friends have asked about health insurance plans available in Thailand. A little research will yield hundreds of insurance programs, with a wide-range of services and of course costs.
We ran across a little-known program that was recommended to us by a teacher. It is quite reasonable in coverage and cost, and offers three different plans. Thousands of foreign teachers living in Thailand subscribe to it, although fortunately it's not restricted to teachers. Check it out and compare.
AJARN.COM GROUP INSURANCE PROGRAM or for more offers have a look at http://www.amazone-insurance.com/index-eng.html
Ajarn.com Group Sickness & Accident Insurance Plans

PLAN 1

PLAN 2

PLAN 3

Individual Sickness & Acciident Maximum Payable per Disability

Basic Hospital Inpatient (IPD) Coverage (max. per disability)

800,000 400,000

800,000 400,000

1,200,000 600,000

Room and Board, including nursing service (Maximum payable per day, limit 60 days)

4,000

4,000

6,000

ICU Room and Board, including nursing service (Maximum payable per day, limit 15 days)

8,000

240,000

8,000

240,000

12,000 360,000

- Room and Board, including nursing service and ICU (Maximum payable per disability)

General Expenses including OPD follow up within 30 days (Maximum payable per disability)

40,000

8,000

4,000

1,000

40,000

8,000

4,000

1,000

60,000

12,000

6,000

1,000

- Emergency OPD Treatment for accident - first visit within 24 hours after accident,

including follow up within 15 days (including in General Exenses)

- Special Consultation Fee (including in General Expenses)

- Ambulance Fee (including in General Expenses)

Surgical Coverage

60,000

60,000

90,000

- Surgical Fee (Maximum payable per disability/time/year, as per actual expense) - Special Consultation Fee for Surgery (included in Surgical Fee)

 

 

 

6,000

6,000

9,000

Doctor Visit Coverage (Inpatient only)

1,000

1,000

1,500

- Hospital In-patient Doctor Visit Fee (Maximum payable per day, limit 60 days)

 

 

 

Inpatient Major Medical Coverage (max. per disability)

400,000

400,000

600,000

(Pays 90 percent of the treatment expenses in excess of the IPD benefits)

Out-patient Coverage (OPD) (doctor visits)

No Cover

Covered

No Cover

- Maximum Payable per Day (Maximum 1 visit per day, limit 30 visits per year)

0

3,000

0

- X-ray and Labaloratory Test Expenses (Maximum per year)

0

30,000

0

Worldwide Emergency Assistance Coverage (by SOS International)

 

USD 1,000,000

 

Personal Accident Coverage (PA 2) AD&D only not treatment

100,000

100,000

100,000

- Accidental Death, Dismemberment, and Total Permanent Disability (AD&D) (100 percent payable for murder and assault) (100 percent payable for riding or being a passenger of a motorcycle)

 

 

 

12 MONTH PREMIUM - EFFECTIVE 15 OCTOBER 2009

12,966

33,061

19,123
Premium must be paid in full at the time of enrollment. Partial premiums are not acceptable. We cannot accept credit cards. Premiums must be paid in cash at either Siam Commercial Bank or Bangkok Bank and proof of payment sent to us by fax or e-mail. Do not phone us or text message us to let us know that you paid - this makes it too difficult for us to monitor and control. We will submit your application for approval, or notify THI you are renewing, once we have received your proof of payment.
For new applicants, coverage for accidents will begin on 15 October. Coverage for illness will begin 30 days later. The hospital cards will not be issued until the end of October. Until then, you will have to pay for any treatment yourself and then submit a claim to us for reimbursement.
For those renewing, and who pay on time, coverage will continue uninterrupted. You will be able to use your old card until you receive your new card.
For those renewing who fail to pay on time, your coverage will stop on 15 October and your old card will no longer be useable. You will still be able to renew once payment has been made; but, you will have to pay for treatment, and then get reimbursed, until you get your card.
New applicants can e-mail their application to This e-mail address is being protected from spambots. You need JavaScript enabled to view it . Or, fax it to 02-990-8356. Also, send a copy of the ID page of your passport or Thai ID card